Last week, Arizona legalized racial profiling, criminalizing the presence of undocumented immigrants in the state and empowering police officers to arrest anyone they have "reasonable suspicion" is undocumented. It is particularly important for us to stand up for immigrant rights at this moment. Please join either or both of the Boston area immigration and workers' rights protests which will be held this May 1!
We are people.
We are workers.
We are change.
March, Rally and Celebration for Immigrant and Worker Rights
12pm Everett City Hall - march to Chelsea
1pm Chelsea City Hall - march to East Boston
2pm Lopresti Park, East Boston
"We are people. We are workers. We are change" is the unified message of the

May 1

st

Coalition

led by the Chelsea Collaborative, East Boston Ecumenical Community Council, La Comunidad Inc., Centro Presente, and City Life/Vida Urbana, and our community partners and allies across the Greater Boston area.



May 1st is a historic day marking workers' struggles around the world. Originated in the United States to commemorate the struggle for the eight-hour work day, it has become a forum that immigrant communities have adopted across this nation to demand rights and dignity for all workers.




May 1st highlights the dignity of immigrant labor and our contributions to this nation. We seek the same goals of equality, opportunity and prosperity that all working people in the United States have historically fought to achieve. We need to make sure that immigrant workers are heard and that just and humane immigration reform finally becomes a reality.



--

Full Rights and Citizenship for the Undocumented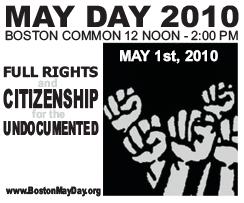 The
Boston May Day Committee
is organizing a march and rally starting on Boston Common at 12 noon. It will be joined by a procession from Boston's North End featuring large cut-out images of the 8 immigrant workers known as the May Day martyrs.
There will be a special performance of the famous radical theater group
Bread and Puppets
and a series of speakers that will address the major demands for May Day.
The 1:00 p.m. March from the Common will focus on local anti-worker employers and the federal Immigration & Customs Enforcement agency.
Read more
about this event.